Ukraine coach felt it was an even game after defeat by France
Last Updated: June 15, 2012 8:43pm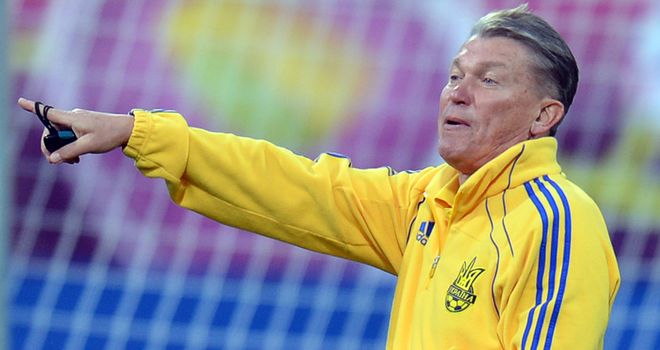 Oleg Blokhin: Ukraine coach admits things didn't go to plan after the 2-0 defeat by France
Oleg Blokhin is hoping his players did not allow complacency to creep into their game after Ukraine were beaten 2-0 by France in Group D.
The Euro 2012 co-hosts started the tournament with a 2-1 success over Sweden
to leave Ukraine on top of the standings after the opening match.
However, after second-half goals from Jeremy Menez
and Yohan Cabaye
secured the win for France, a final game victory over England is now likely to be required for Ukraine to reach the quarter-finals.
Blokhin was generally satisfied with his team's performance against France, but raised the possibility that his players may have looked too far ahead after beating Sweden.
"In the first half, it was an even game," said Blokhin.
"In the second, we were unable to score and France were. I'm satisfied with our play but unfortunately everything didn't go as planned.
"The win against Sweden didn't guarantee us anything, so if we thought we were in the quarters, we made a mistake."
Mistakes
The match was interrupted after just five minutes due to a raging thunderstorm and it was nearly an hour before play was resumed.
Blokhin did not want to blame the conditions for his team's defeat after Ukraine were booed by the home fans at the final whistle.
He added: "In the box we didn't try to clear, we just created moments for the French team, so we can't make such mistakes in our defensive line.
"The conditions were the same for both teams, maybe the French team got used to this weather quicker.
"But the French are one of the best in world football and one of the favourites in this tournament."