Coach aggrieved after 'clean goal' was disallowed
Last Updated: June 19, 2012 11:16pm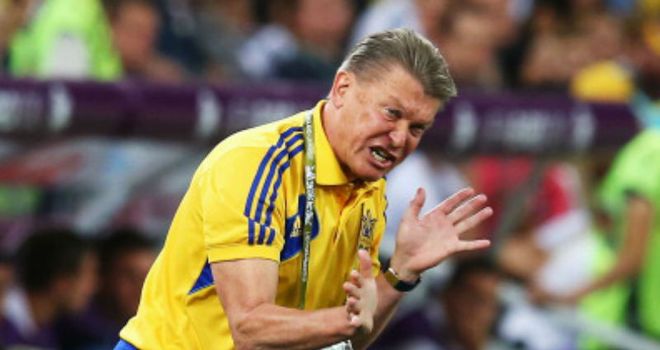 Oleg Blokhin: Feels Ukraine's 'goal' should have stood
Ukraine coach Oleg Blokhin expressed his anger with the officials after the co-hosts exited Euro 2012 following their 1-0 defeat by England.
Blokhin's men needed a win in Donetsk to reach the quarter-finals but fell behind to a Wayne Rooney goal just after the interval and, despite creating several chances, they were unable to reply.
However, Marko Devic's second-half shot appeared to cross the line before it was hooked away by John Terry, only for the additional assistant referee, introduced to rule on such close goal-line decisions, to decide that it was not a goal.
Rotten luck
Blokhin said: "We scored a clean goal in the 63rd minute, as the ball crossed the goal line by over a metre.
"What can I say? There are five refs on the pitch and the ball was over the line. Why do we need five refs then? Devic scored a goal and I don't know why it wasn't allowed.
"We had rotten luck tonight because the ball was not willing to go into the goal and England were lucky to score."
Blokhin then lost his temper with a journalist and said: "Let's go outside and have a man conversation.
"Have you ever played? You write what you like. You don't like my team or me. I understand you are a journalist. You should respect me."