FA chairman believes organisation has been 'spot on'
Last Updated: June 17, 2012 1:12pm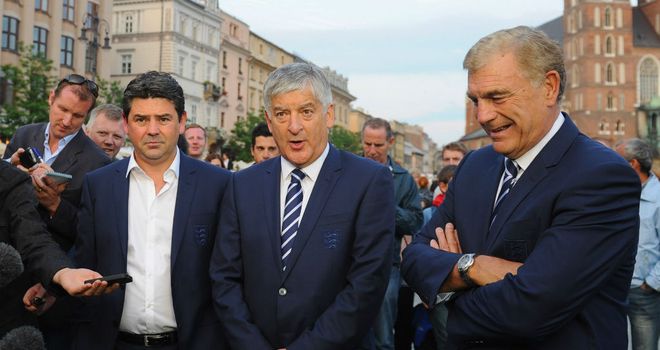 David Bernstein: Impressed by the way Roy Hodgson has worked with the squad
Football Association chairman David Bernstein believes Roy Hodgson has cultivated a relaxed but professional approach within the England camp that is giving the players the best chance to succeed.
Previous regimes have been criticised for being too strict but Bernstein believes the balance is just right at England's Euro 2012 base in Krakow.
Bernstein believes the FA deserves a lot of the credit but he has also been impressed with Hodgson and is hopeful that England can progress in the tournament.
Asked about the mood in the camp, he told Sky Sports News: "It is very relaxed but very professional. People are working and training hard and there is a real focus, but there is a general background of a good, relaxed feel.
"Doing things the way we have done them and organising things the way we have, being in a fabulous city like Krakow, I think we've got the organisation pretty spot on."
Questioned on whether Hodgson had done anything differently, Bernstein added: "Any manager will do things differently.
"It is a little more relaxed but he is a very focused person. You don't get his success in management without being very focused and extremely professional.
"There is a good easy feel about the place and I think the players respond to it. We had a quiz night last night which was real fun.
"It is the sort of background you want to get the maximum out of the players when they get on the pitch."
No fatigue
Bernstein also maintains there has been no suggestion of fatigue, despite England having to travel long distances to play their matches in Ukraine.
He explained: "No, there hasn't been. I have had a word with two or three of those who have done an awful lot of work, particularly the midfield players, and even yesterday they were feeling good and they have another three days to recover.
"Every team is playing the same number of matches so it is a level playing field."
England only need to avoid defeat in their final group game against Ukraine to reach the quarter-finals, but Bernstein is expecting a tough match.
He said: "I am not going to forecast results. It is an away match for us in front of a very passionate crowd, so it certainly won't be easy.
"I am very happy we have four points and we need one more, but I think we need to go for the win."
England will be boosted by the return from suspension of Wayne Rooney
for the game in Donetsk, and Bernstein is confident he will handle the pressure.
"He is a world-class player and I am sure he will do very well," said the FA chairman. "Having him back can only be a positive."