Denmark striker suspended and fined by UEFA
Last Updated: June 18, 2012 2:44pm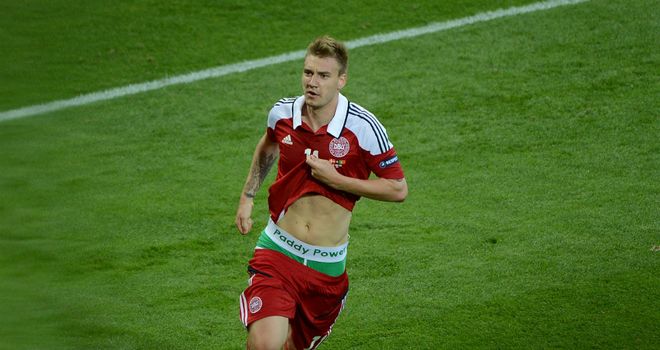 Nicklas Bendtner: Banned for one match by UEFA and fined for this celebration
Nicklas Bendtner has been banned for one match and handed an £80,000 fine by UEFA as a result of his goal celebration against Portugal.
The Denmark international flashed a sponsored waistband on his underpants after netting in a 3-2 defeat to Portugal at Euro 2012.
European football's governing body have strict rules when it comes to advertising, and Bendtner breached them.
UEFA's Control and Disciplinary Body have decided to impose a fine and suspension for 'one competitive fixture'.
"This suspension applies to the next 2014 FIFA World Cup match, including the qualifying competition, for which Bendtner is eligible," read a statement on UEFA's official website.
Slogans
Bendtner has three days from receiving the written receipt of the sanction is which to appeal.
UEFA started disciplinary proceedings after seeing Bendtner act out of line during the Group B fixture in Lviv, with the Arsenal forward charged with improper conduct.
Law 4 of the Laws of the Game stipulates that: "Players must not reveal undershirts which contain slogans or advertising. A player removing his jersey to reveal slogans will be sanctioned by the competition organiser."
Article 18.18 of the Regulations of the UEFA European Football Championship 2010-12 states: "All kit items worn during the final tournament must be free of any sponsor advertising."
Bendtner claimed the underpants, which bore the logo of a Dublin-based betting firm, were 'lucky'.