Eight other players reportedly set to turn down switch to 'newco'
Last Updated: June 23, 2012 10:33am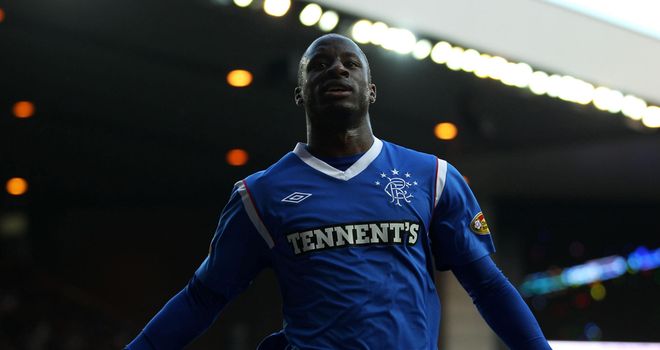 Sone Aluko: Has turned down the transfer of his Rangers contract
Sky Sports sources understand that Sone Aluko has rejected the transfer of his contract from Rangers to the 'newco' version of the club.
Rangers
are waiting to learn their fate after being forced into liquidation earlier this month and will discover on 4th July whether they can take their place in the Scottish Premier League
for the new season.
'Club 12' took the final slot in the SPL fixture list and Rangers will only occupy this position if they receive an 8-4 majority when the other top-flight clubs - including oldco Rangers - vote on their future.
While doubts continue to surround which division the club will be playing in, the players are also facing an uncertain situation.
Rangers owner Charles Green has previously insisted that all contracts should be transferred to his newco under employment law, and will meet with the players next week.
However, there remains some confusion over the validity of contracts after the Scottish PFA claimed players would be able to walk away from their deals.
And it is thought that
Aluko
has now turned down the transfer of his contract, following in the footsteps of young midfielder Rhys McCabe.
Aluko only moved to Ibrox in November on a short-term deal until the end of the season, and a number of impressive performances for Gers had seen him linked with several other clubs.
It is understood that eight other senior players could be set to follow Aluko's example and reject the transfer of their contracts.
Season ticket deadline
Meanwhile, Rangers have extended the deadline for season ticket renewals so that fans will know which league the club will be playing in before they have to decide.
The previous deadline was July 2nd but that has now been extended until 11th July.
A statement read: "In the event that we are not playing in the SPL, pricing will be reviewed and adjusted accordingly and refunds paid to season ticket holders who have already committed.
"The club will process the first of four direct debit payments.
"However this payment will be taken on July 6 rather than June 29 as previously communicated.
"The amounts remain unchanged at this point in time from the amount indicated to all direct debit season ticket holders in their confirmation letter.
"However, any subsequent payments will be reduced to take account of any movement in price as a result of playing in an alternative league.
"Fans should also be assured that all season ticket money will be held in an account that will go directly to the club."