Coach's delight at Berlusconi's refusal to sell stars
Last Updated: June 18, 2012 1:29pm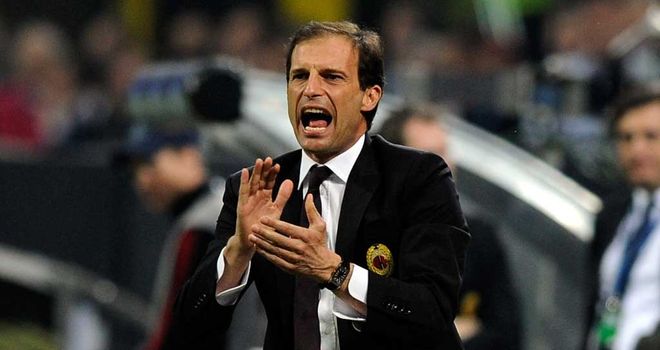 Massimiliano Allegri: Has praised owner Silvio Berlusconi for his refusal to sell any of AC Milan's star players
AC Milan coach Massimiliano Allegri has praised club owner Silvio Berlusconi for ensuring their star players will not be sold this summer.
Brazilian defender Thiago Silva was the subject of a €46million [£37.4m] bid from big spending Paris St Germain earlier this week.
However, that offer was quickly rebuffed, with Milan reiterating their desire to keep hold of their best players.
Star striker Zlatan Ibrahimovic has also been linked with a move to Paris, but the Sweden international has already revealed he wants to stay, citing the club's desire to keep hold of Silva as a contributing factor in his decision.
Allegri has praised Berlusconi's determination to keep hold of the club's best players and the positive message that sends out about their ambition.
"Thiago Silva will stay and that is a great gift from our president," Allegri said.
"It's a great present that Berlusconi has given me and the fans. Also Ibrahimovic will remain.
"This is proof that the club has no intention to dismantle the team."