Real Madrid sensation targets glory at Euro 2012 this summer
Last Updated: June 24, 2012 4:21pm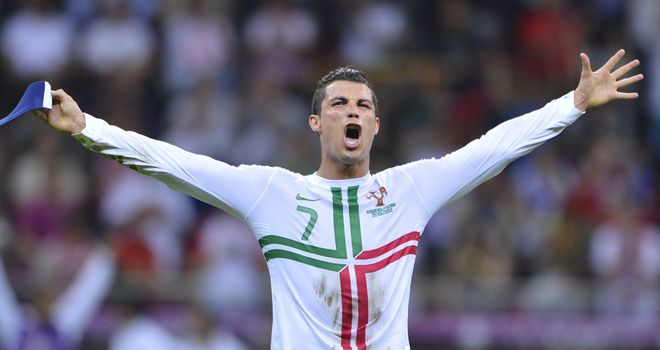 Cristiano Ronaldo: Portugal celebrates at the end of the quarter-final against Czech Republic
Cristiano Ronaldo has vowed to ignore his critics and let his football do the talking.
Portugal's talisman was criticised by the media in his homeland after below-par displays in the first two games of Euro 2012.
Nevertheless, Ronaldo
has exploded into life with winnings goal against Holland and the Czech Republic
in his last two outings to silence his detractors.
His efforts have single-handedly taken Paulo Bento's men into the semi-finals of the competition, and theReal Madrid
ace has insisted he will continue to give his all for Portugal.
"The bigger star you become, the greater pressure there is on you to perform at a level acceptable to other people let alone yourself," said Ronaldo.
Critics
"Even Messi has his critics. You can't please everyone. But I don't get angry or frustrated by it.
"I accept it's part of being a professional footballer, it comes with the territory. It takes a bigger man to ignore it and just get on with playing.
"I don't have an agenda where I set out to appease critics. I just go out and play to the best of my ability."
Spain and Germany are the favourites to win the competition but with Ronaldo now approaching his optimum form, Portugal cannot be ignored.
And after coming off the back of a stunning campaign with Real who wrestled the Primera Liga crown from Barcelona,
he wants to continue his winning momentum.
Objective
"We're improving and that's important," he added.
"There is great unity in our squad, we've a good team spirit and that helps.
"It's been difficult to get this far, but we reach this stage with a great deal of optimism no matter who we face in the semi-final.
"Our objective now is to reach the final. Why not? There's greater pressure on other sides in this tournament and we've been able to progress without excessive expectations.
"No matter what happens now we should all be congratulated."