Arsenal striker looking forward to next season after Euro success
Last Updated: June 24, 2012 3:54pm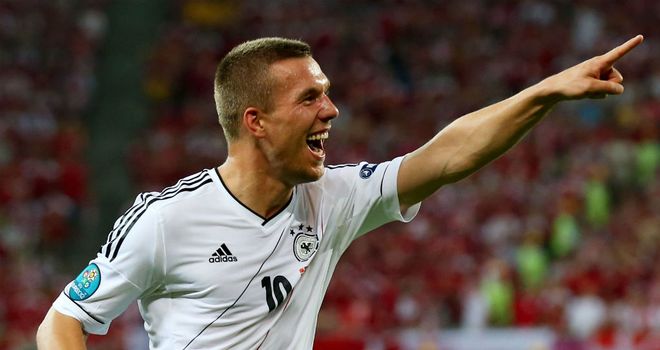 Lukas Podolski: Germany striker confident of success if they face England in semi-finals
Lukas Podolski has warned England that they are in line for another thrashing if they meet Germany in the Euro 2012 semi-final.
Two years ago at the World Cup in South Africa, England, then managed by Fabio Capello, were comprehensively beaten 4-1 by Germany.
Podolski scored on that occasion and they will again be England's opponents should Roy Hodgson's team overcome Italy on Sunday.
The manner of that victory in Bloemfontein is still vivid in the memory of Podolski who has vowed to put England to the sword again.
He said: "It could be England again - and if that's the case then of course it's no problem!
Confident
"The last time we played England it was a great game for Germany, but it meant nothing because we didn't win the trophy.
"This time we are aiming for the title and we don't care if it's England or Italy we have to beat.
"We're confident and playing well. To score four goals in the quarter-final against Greece was good and now we want the final, that's it.
"If it's Italy or if it's England, we know we can beat them. That is the German mentality."
Germany have not won a major tournament since Euro 96 when they triumphed over England on penalties in the semi-finals.
Trophy
For a country brought up on a diet of success, 16 years without a trophy represents a major drought, but Arsenal's new recruit is sure about their chances of ending that run.
"It is too long since we won," added Podolski.
"We want to win a trophy for the fans so I hope there is a great end to this season for me and then I can look forward to Arsenal.
"I'll feel at home because Per Mertesacker is there - and maybe I will see some of my new team-mates in the semi-final, too."