Former England defender hails the spirit of the current side
Last Updated: June 24, 2012 4:59pm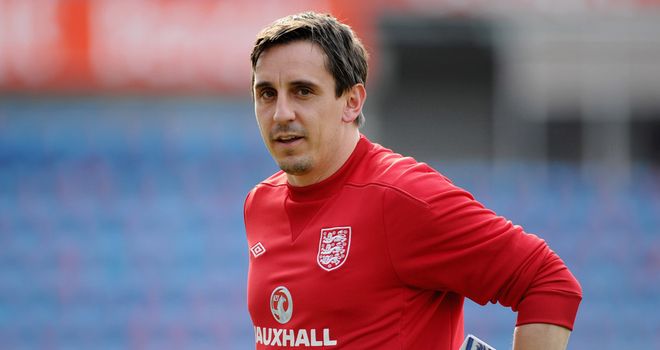 Gary Neville: England coach ready to draft more young players into senior squad
England coach Gary Neville is excited at the prospect of more young players joining the squad and improving its quality.
Roy Hodgson's team have reached the quarter-finals of Euro 2012 with the bulk of the players used by the previous boss Fabio Capello.
Hodgson has integrated a few new faces into the set-up, namely Alex Oxlade-Chamberlain and Martin Kelly.
Neville,
though, believes there are a cluster of prospects who could further embellish the national team and has hinted they will be handed opportunities to impress.
Tournament
"This squad is the second or third youngest in the tournament," he said.
"And there are young players to come. (Jack) Wilshere, (Kyle) Walker, (Chris) Smalling, (Daniel) Sturridge, and we would like to see more.
"They will get their opportunity in this next couple of years. We know that the manager talks about them and wants to bring them in."
Hodgson has rightly drawn praise for the sense of calmness he has injected into the national camp.
Spirit
Under Capello, there were times when the egos of players seemed to prohibit the sense of unity he was trying to foster within the squad and the 85-cap full-back reckons the harmony within the squad now is evident.
"This is a squad without ego," added Neville.
"You can talk into a microphone about spirit all you like. They are showing it on the pitch.
"We have big characters in the dressing room but they are all fighting for the same cause."