McCoist wants honesty and Green says legal action could be taken
Last Updated: June 23, 2012 3:09pm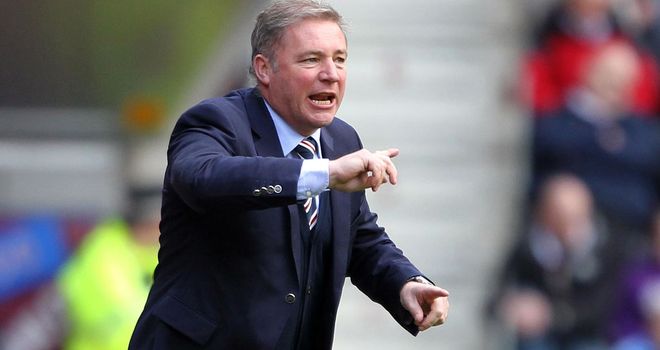 Ally McCoist: Keen for his players to show respect and be honest about their plans
Ally McCoist hopes none of his players will use the transfer of contracts as an excuse to leave Rangers and would like to think they will all be honest about their intentions.
It is understood that Sone Aluko
and Rhys McCabe have rejectedthe transfer of their deals to the 'newco' Rangers
and eight other players could be set to follow that example.
Rangers are facing an uncertain future after being forced into liquidation and will not find out until 4th July whether they will be playing in the Scottish Premier League
next season following a ballot of all the top-flight clubs.
McCoist appreciates what a difficult situation it is for everyone connected with the club, but says the players must show respect and not look for an escape route.
He has not heard from anyone who wishes to turn down a switch to the 'newco' and hopes his players will all remain committed to the club.
"It has been reported that a couple of players have indicated they want to challenge the transfer of their contracts. This is news to me and no player has spoken to me about it," McCoist said in a statement on Rangers' official website.
"At all times during my first year as manager, I strived to show players respect and in return would have hoped they would have shown me, and more importantly the club, respect by notifying us of their intentions before making it known elsewhere.
"Players have their own decisions to make and I understand that, but the question they have to ask themselves is do they want to play for Rangers or not?
Fans not daft
"The formation of a new company is not the issue. The players would be playing for the same club - Rangers - in front of the same fans.
"If players want to leave and play somewhere else then they should be honest with the Rangers supporters.
"I don't want Rangers fans to be reading over the next few days how devastated players are about having to go. The fans deserve better than that. They are not daft.
"I can understand if a player has the chance to go somewhere else and there is uncertainty about which division we will be playing in.
"If that is the case that is understandable but they should not expect sympathy from Rangers supporters if they use the transfer of contracts as an excuse.
"I already know there are agents touting my players all over the United Kingdom, so let's be brutally honest.
"We are in a difficult situation and the contracts issue has given some players and agents the belief they can use it to leave the club.
"After all that the club and the fans have gone through, the supporters, above all, deserve the truth and should not have to listen to stories trying to sugar-coat the possible departure of players from the club.
"The players were magnificent last season and made great sacrifices and that will never be forgotten.
"Now, we have to look forward and everyone should be upfront and honest about their intentions."
Necessary steps
Rangers CEO Charles Green has also stressed that the club will fight to keep hold of their players, warning that legal action could be taken if anyone tries to force a move elsewhere.
Green added: "We are meeting the PFA Scotland and their legal advisers on Monday with a view to allaying players' concerns about the transfer of contracts so the timing of these announcements by players is hard to understand.
"The transfer of contracts has already happened and the club's clear legal advice is that players' purported objection is ineffective.
"Rangers would like to make it abundantly clear to players, agents and the chairmen and managers of other football clubs that we will take whatever steps necessary to challenge what we regard as a breach of contract to protect the interests of our club."