Legendary striker being looked after at Polish medical centre
Last Updated: June 24, 2012 11:11am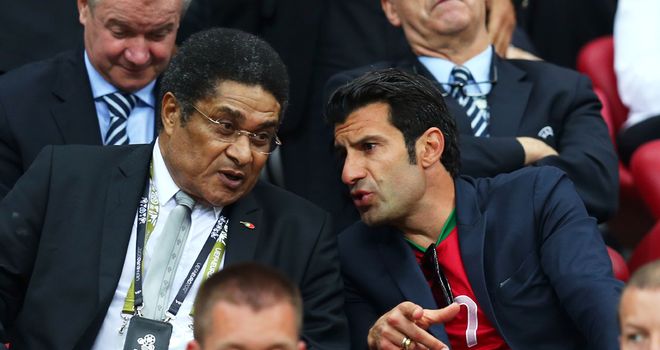 Eusebio: Joined Luis Figo in the stands for Portugal's victory over the Czech Republic
Portugal legend Eusebio was taken to a hospital in Poznan on Saturday after falling ill at the national team's hotel.
The Portuguese side are currently based in Poland as they compete for the Euro 2012 crown.
Former Benfica striker Eusebio has accompanied them throughout a campaign which has seen them reach the semi-final stage.
The 70-year-old is said to be 'comfortable' after being forced into medical care, but this is the fourth time this year that he has been hospitalised.
The Portuguese Football Federation said in a statement on their website: "National-team ambassador Eusebio felt unwell on Saturday when he was at the hotel with the national team in Opalenica.
"After an initial observation and contacting his doctor in Lisbon, he moved as a precaution to a hospital in Poznan for further investigations."
Tests
Portugal squad doctor Henrique Jones explained that Eusebio had undergone a number of tests, including an electrocardiogram, which revealed 'some small variations'.
Eusebio, who underwent a heart operation in his homeland five years ago to prevent a possible stroke, was treated for bronchial pneumonia last December and has been admitted to hospital several times since.
He was seen in the stands alongside former Portugal captain Luis Figo on Thursday enjoying the team's 1-0 quarter-final victory over Czech Republic.
Eusebio played for nine clubs in a 22-year professional career but it was at Benfica where he forged his reputation as one of the game's greats, turning out for the club 614 times between 1960 and 1975 and scoring an astonishing 638 goals.
During his time at Benfica, Eusebio won 11 Portuguese league titles, five Portuguese Cup titles and the European Cup in 1962.
Despite being born in Mozambique, he was eligible to play only for Portugal as his homeland was a dependency of the European nation.
He scored 41 goals in 64 international appearances between 1961 and 1973, and finished as the top scorer at the 1966 World Cup
in England.