Blues boss expects striker to be 'buzzing' next season
By Pete O'Rourke - Follow me:
@skysportspeteo
. Last Updated: July 7, 2012 10:54pm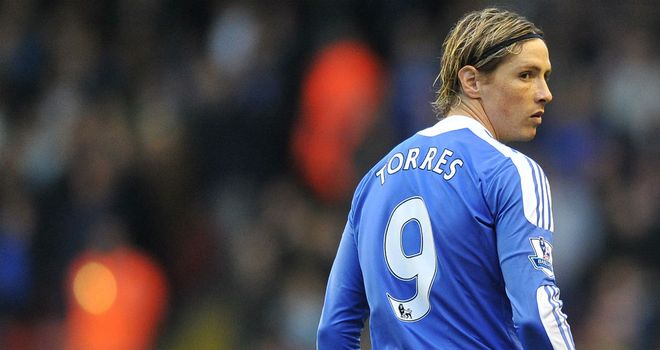 Fernando Torres: Warned not to expect to be the main man at Chelsea next season
Roberto Di Matteo has warned Fernando Torres there are no guarantees that he will be number one striker at Chelsea next season.
Torres has failed to live up to expectations since his record breaking £50million move from Liverpool in January 2011, finding himself playing second fiddle to Didier Drogba for much of last season.
With Drogba now departed to China, Torres has been expected to take up the mantle of first-choice striker in Chelsea's starting XI.
However, Di Matteo claims Torres cannot expect to be automatically first choice up front just because of Drogba's exit.
Torres' future has been the subject of speculation after he had launched an outburst against his treatment at the cub just hours after Chelsea's Champions League final success over Bayern Munich, but Di Matteo insists there is no problem with the Spaniard.
"There is no concerns about Fernando at all," said Di Matteo.
"I did have a chat with him the morning after the final, and have been in touch since as well.
"It (disappointment) was a feeling he had at the time, but I will continue to speak to the players.
"I am expecting him here in a good mood, to be buzzing and be very good next season.
"I am expecting him here in a good mood, to be buzzing and be very good next season."
Roberto Di Matteo on Fernando TorresQuotes of the week
"Certainly winning the Golden Boot and the Euros, along with the trophies they won with us should give them a lot of confidence.
"I expect him next season to be a fantastic player with us."
Di Matteo, though, added: "We have three strikers at the moment in the squad, and I would not be saying who is going to be playing.
"They will all have to fight for their position and there is healthy competition. Whomever is in the best form and can give the best for the team will be playing."
Lampard backing
Di Matteo also backed Frank Lampard to bounce back from his disappointment of missing out on Euro 2012 through injury.
"Frank is a very fit man and can play for many years to come," added Di Matteo.
"He was very influential towards the end of last season maybe playing a little deeper role. He made some key passes and he performed very well.
"I was very happy. It depends on how he feels physically and mentally and I don't see any problems with him going on."
Di Matteo also played down talk of a major overhaul of the squad at Stamford Bridge this summer
"It is not a question of overhauling the squad it is a question of finding the right players to integrate into the team," continued Di Matteo.
"The team will change face over time as the players move on or retire and new players come into the team."