Azzurri boss predicts bright future for his side
Last Updated: July 2, 2012 4:50pm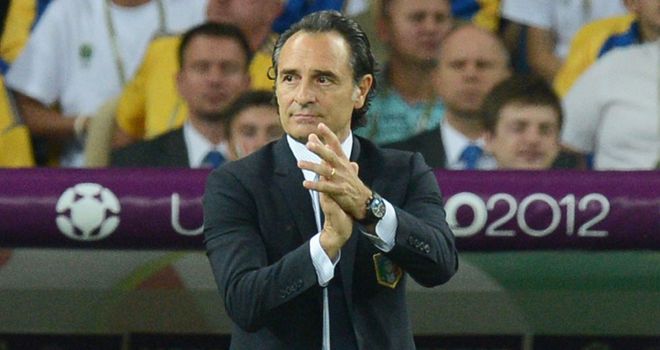 Cesare Prandelli: Believes future is bright for Italy despite final defeat
Italy coach Cesare Prandelli insists the Azzurri can take plenty of positives from their Euro 2012 campaign despite it ending in disappointment.
Prandelli's men lost 4-0 to Spain in Sunday's final in Kiev - their only defeat in the competition.
"We faced a national team that has continuity in its project," Prandelli said in Monday's press conference.
"It's a pity that we had a day less to prepare for the game than Spain and that is my only regret. But we have to recognise Spain's superiority and their capacity to give continuity to results."
Right path
Sunday's victory saw Spain become the first country to win three consecutive major international titles.
Prandelli believes his national team is on the right path but still has a long way to go before they can follow Spain's example.
"We need to have the strength to believe in our project even if we will find adversity," said the coach.
"We are a country with old ideas and we must find the courage to change.
"That will take time and perhaps we are not ready but when we are, we will win and win, with continuity."
The former Fiorentina tactician replaced Marcello Lippi at the helm of the Azzurri after Italy's embarrassing first-round exit from the 2010 World Cup.
Prandelli had the task of rejuvenating the national side with fresh talent after a generation of players retired while also bringing a new style of play.
"We must be proud of this squad," he said.
"We came to the European Championship saying 'we want to change' and the result in the final should not be an excuse.
Passion
"There is a great passion in us and a great will to improve and renew our football."
Prandelli has confirmed he will respect his contract with the federation with his current deal ending after the World Cup in 2014.
"I've decided to stay because I can see that the federation, like me, want to change things," he said. "I am convinced that there is a desire for us to follow the path we want to take."