Newcastle target keen on Monchengladbach move
By Pete O'Rourke - Follow me: @skysportspeteo. Last Updated: July 7, 2012 8:48pm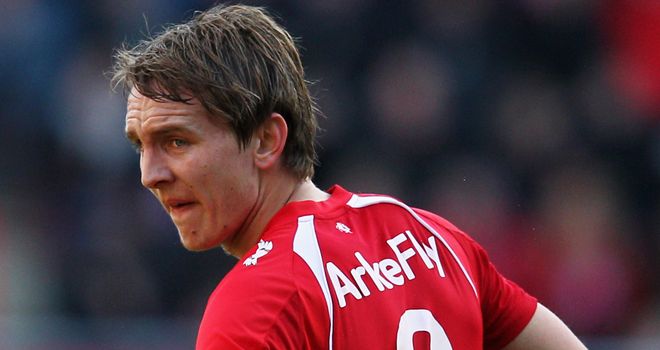 Luuk De Jong: Unhappy at the price tag FC Twente have put on his head
Luuk De Jong has blasted FC Twente for trying to price him out of a move away from the club.
Newcastle and Borussia Monchengladbach have expressed an interest in signing the highly-rated forward.
Twente are reluctant to lose the 21-year-old and chairman Joop Munsterman has placed a £16million (€20m) price tag on the forward's head.
The valuation has seen Newcastle cool their interest in De Jong, leaving Monchengladbach in pole position to land the player.
De Jong is keen on a move to Monchengladbach and he admits he is prepared to waive 20 per cent of any transfer fee that he is due to a clause in his contract to secure a move away from Twente.
Shock
"I fell off my chair when I heard the words of Munsterman," De Jong told Voetbal International. "There have been, in recent months, eight clubs from five countries interested in me. A number of those clubs approached us directly and at least three to Aldo van der Laan [Member of the Supervisory Board of Twente].
"I also heard Munsterman say that a transfer is negotiable only at €20million. This amount is inconsistent with the talks that were held this week between Monchengladbach, my agent Louis Laros and my father.
"I notified the club that I fully waive the 20%, but now Twente said that they also do not want this. I find this practice incredible. I thought this was a decent club to play for.
"The president said that players should get a fair chance, but the reality is different. I had heard from other players that the board of Twente negotiates in an indecent manner, and I never believed it. Now, unfortunately I have experienced this myself.
"Gladbach will be a new level for me and it's where I want to develop further, in view of the Dutch national team. All my competitors for the striker position in the Oranje play in foreign clubs in strong leagues.
"I hope Twente still honours the commitment. The club bought me three seasons ago for €900,000 and now in three years, it is €14million to get me. Such an amount is unprecedented in the Netherlands."