Gunners midfielder refuses to discuss skipper's future
Last Updated: July 8, 2012 2:19pm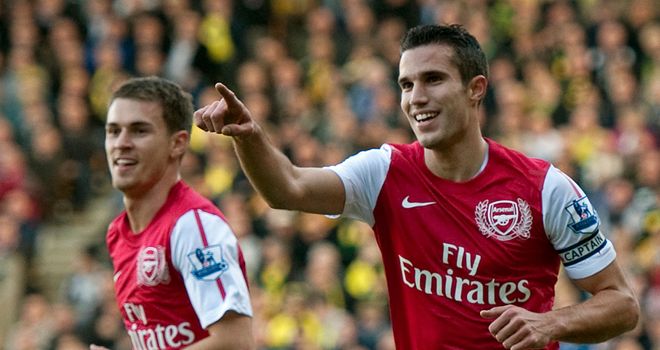 Aaron Ramsey: Does not know what the future holds for Robin van Persie
Aaron Ramsey is reluctant to be drawn into a discussion regarding Robin van Persie's future at Arsenal, but is delighted to see fresh faces arriving.
Van Persie
appears set to dominate the headlines at Emirates Stadium this summer after revealing that he has no intention of penning a new deal.
His current contract is not due to expire until 2013, but Arsenal
find themselves torn between the desire to keep a top player on their books and the need to offload him before he becomes a free agent.
The rest of the Gunners squad are fully aware of the situation regarding their skipper, but Ramsey
claims to have no idea as to what the end result will be.
"There is no need for me to get involved in that," said the Wales international.
"I don't know and we as players don't know what is happening so we will just have to wait to see what happens."
Recruits
Should Van Persie
move on, added striking responsibility will be placed on the shoulders of new boys Lukas Podolski and Olivier Giroud.
Both are international standard performers, though, and Ramsey is confident they will prove to be shrewd additions to the Emirates Stadium ranks.
"They are great additions to the squad," he said.
"Hopefully they can do their bit for the team and hopefully we can have a big season."
Arsenal Specials. Click here to bet.