Striker will not be rejoining Fiorentina just six months after leaving
Last Updated: July 7, 2012 10:55pm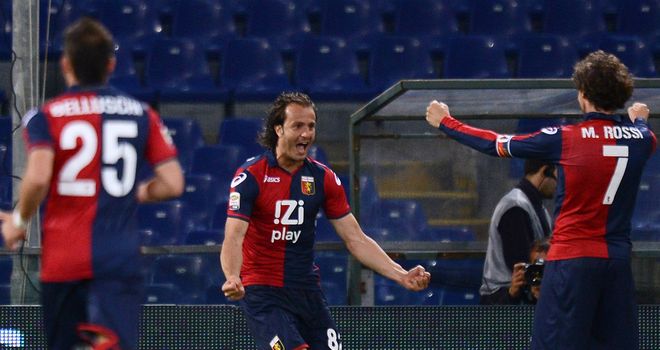 Alberto Gilardino: Genoa have dismissed talk that the striker could return to Fiorentina
Genoa have described as 'nonsense' reports that Alberto Gilardino could return to Fiorentina just six months after changing clubs.
Gilardino left the Viola to sign a four-and-a-half year contract with Genoa in January, but has been linked with a move back to Fiorentina.
The 30-year-old has also been mooted as a target for French side Monaco, but Genoa's chief executive Pietro Lo Monaco has no plans to sell the striker.
"The Gilardino to Fiorentina rumour is nonsense," Lo Monaco told the Italian media.
"I'm not saying we would turn down a €20m (£15.9m) bid for the player, but Alberto wants to stay with us and we want to keep him.
"Gilardino's goal average over the last few years shows us that he is one of the top five attackers in the league.
"We have him in our squad, we'll keep him in our squad and he'll demonstrate his true worth."