Asrenal boss unfazed by players leaving
By Graeme Bailey - Tweet me: @skygraemebailey. Last Updated: September 1, 2012 10:50pm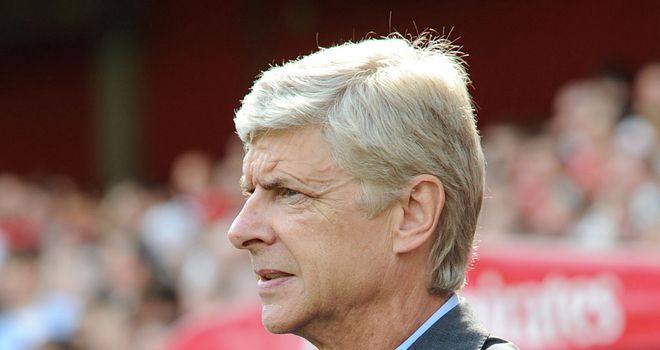 Arsene Wenger: Says he relishes building team
Arsenal boss Arsene Wenger insists he remains unfazed by the number of players who leave the club as he enjoys rebuilding his side.
"To rebuild is exciting as well"
Arsene WengerQuotes of the week
Robin Van Persie
and Alex Song have departed Emirates Stadium this summer, while the equally instrumental Cesc Fabregas and Samir Nasri have also left over the last two years.
To strengthen, Arsenal
have signed Santi Cazorla, Olivier Giroud and Lukas Podolski
during the transfer window.
The trio are promising additions to the squad, but Gunners fans will be concerned by the failure to recruit further on Friday's transfer deadline day.
Opening the season with two goalless draws has failed to set the Premier League alight, but Wenger is confident his new-look Gunners will soon begin to gel.
"To rebuild is exciting as well. We can click very quickly because we look like a team on the pitch at the moment," he said.
"I believe that we look a team on the pitch and a team who is ready to fight
together.
"We have not scored and have not been completely at our best going forward,
but that will happen eventually.
"Of course if you gave me a choice I would have preferred to keep Van Persie.
"But if you lose a player who scores 30 goals, there are not 100 players in the world who can score 30 goals a season at this level."
Ambitious
Wenger insists Arsenal retain the ambition of winning the Premier League - a feat they last achieved in 2004.
However, he accepts it is difficult when they can no longer match the spending power of Manchester City,
Chelsea
and Manchester United.
"The aim is always to win the title. If you don't do it, people are disappointed and I'm the first one to be disappointed," he said.
"We are today already in a stronger position financially.
"But we face teams who have no limitations in their resources at all.
"So no matter if you have a stadium of 120,000, if some people have no limitation in their resources we will always have the same problem.
"The nature of the job has changed because the financial competition is higher.
"But we always do as well as we can with the resources we have.
"Our club is managed in a good way, we are solid and of course people want us to win."
Financial fair play
While Wenger acknowledges the advantages enjoyed by rival clubs, he believes UEFA's financial fair play regulations are already beginning to have an impact.
"Some clubs who have spent a lot of money are worrying about the regulations as well," he said.
"We are run in a very responsible way because we make profit every year and at the moment that's where everybody is struggling in Europe.
"All of the clubs are struggling. We find ourselves a little bit in the situation of Germany in Europe.
"I believe society will force football to become more reasonable.
"You cannot imagine that on one side society's standard of living will drop while football will always push up with an inflation. That cannot work together."