Leicester boss happy to end Blackpool record
Last Updated: September 1, 2012 9:02pm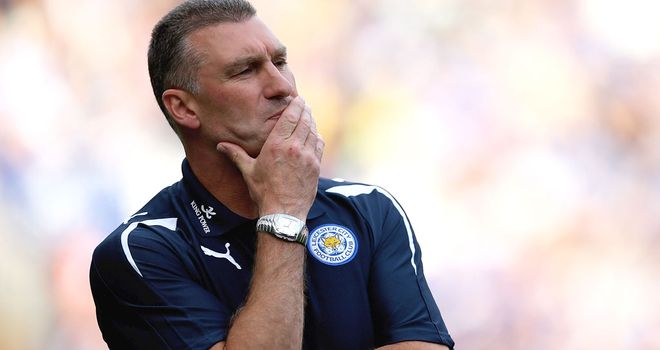 Nigel Pearson: Happy to claim win over Blackpool
Nigel Pearson was a relieved and happy man as Leicester ended Blackpool's 100 per cent record with a 1-0 win at the King Power Stadium.
The victory also brought to an end a run of three defeats for the Foxes, who bounced back from a humiliating Capital One cup exit against Burton.
Winger Ben Marshall, called up into the England Under-21 squad this week, netted the all important goal from the penalty spot in the 54th minute after a foul on Jamie Vardy by Tiago Gomes.
Blackpool's
players protested against referee Michael Jones' decision and manager Ian Holloway
accused Vardy of diving.
Leicester
dominated the first 30 minutes, but the best chance fell to Barry Ferguson
just before half-time, only for the Blackpool skipper to hit the post.
The Foxes continued to press in the second half, but then had to hang on at the end with Blackpool playing four players up front.
Leicester boss Pearson said: " We showed a bit more resilience and it was a good performance and result for us.
"I thought we deserved it. We didn't play well in mid-week and were turned over and deservedly so.
"But today I was really pleased with the players.
"The bottom line was that the result in this match was always going to be more important than the performance, but I felt we played pretty well.
"We are only four games into the Championship season and have two wins and two defeats, which is not what we wanted. But the win today was a big one for us.
"The league always takes quite a few games to settle down and, to be honest, I have not even looked at the league tables this season.
"But we can now go into the international break with a good result behind us and hopefully that will stand us in good stead when we return."
Anger
Angry Blackpool manager Ian Holloway said: " It was not a penalty.
"It was a hopeless decision. The boy so blatantly dived.
"The crowd also played their part. They shouted for something, then shouted for handball and the referee looked like he could not wait to blow his whistle.
"You would think he would be strong enough to resist those sort of things.
"They created some chances, we created some and we certainly had the lion's share of the ball.
"But I would rather something else have gone in than that.
"The boy should have had a yellow card, we should have had a free kick and it should have been 0-0.
"The referee made a human error but they should not be allowed to. We just have to hope we get a fair crack of the whip, but it is a shame when a game is spoiled like that.
"I don't mind losing - but not like that."